Restaurant
Trattoria "Due Mori" was born as caneva ("canteen") in the 1400's, later changing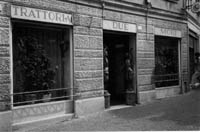 its denomination in hostaria ("inn") and finally in trattoria ("eating house"). The origin of the name dates back to the Venice Republic era and it refers to the tavern ranking system: the "Due Mori" ("Two Moors") label indicated good quality restaurants, while "Al Moro" ("One Moor") was synonym of poor service. This is the reason why we can still find many restaurants and taverns in the Venice Region that bear the "Due Mori" caption in their name.
Since Treviso lies near the Venice Lagoon and on the banks of the Sile river, the restaurant became soon famous for its fine fish dishes, besides traditional meat courses.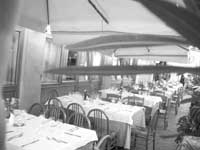 Historically, our trattoria was situated situated in via Palestro, on the path linking the isola della pescheria (the "fish market isle" on the Sile river) and the Piazza dei Signori (Treviso's main square), but in 2002 it moved to a more modern and spacious location in front of the city hall, Ca' Sugana. Despite this, it maintained its traditional cozy and friendly atmosphere;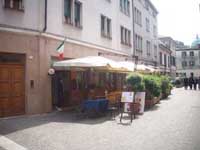 the new site seats 120 people and, from April to October, our guest can also enjoy our patio, a distinguishing feature in the heart of Treviso's old town centre.